WELCOME TO THE HOLYGHOST CONGRESS 2020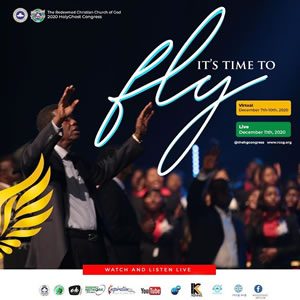 IT'S TIME TO FLY
We thank the Almighty God, the controller of the universe, for the privilege of celebrating another Congress. He has preserved us all through the year since the last Congress for a special evening experience at this year's Congress. May His Name be glorified forever in Jesus' mighty name!
This year's Congress is very special in many ways. We shall spend quality time on the opening day to praise God for His wondrous works at the last Congress and ever since. Each day has been planned with you in mind – The Opening Day, The Daily Morning, Afternoon and Evening Sessions. If I were you, I would not miss any of them. You may wish to see the details of the programs in the Schedule section of this page.
It's your turn to FLY. Do not let anyone or any situation distract you. It is a special encounter with the Lord Himself, be very ready to receive Him. Be prayerful, focused and expectant. I have no doubt that you would be the next person to FLY.
As you fly, your strength will be renewed continually in Jesus Name.
Welcome to the Congress of IT'S TIME TO FLY!
God bless you!
Pastor E.A. Adeboye
General Overseer, RCCG Worldwide
Congress 2020 Hymns
TUNE: AMEN, AMEN, Blessings and Glory
1. No more crawling
And no more walking
And not just running
I will fly
I want to soar
Higher in the sky
Forever and ever
Halleluyah
2. No more dwelling
Down in the valley
Of shame and sinning
And darkness
I want to rise
Far above weakness
Into holiness
Halleluyah
3. I am moving
To health and wholeness
For by Jesus stripes
Wholeness is mine
Why should I dwell
Where sickness abound
In health I will dwell
Halleluyah
4. Freedom is mine
Not satan's bondage
And Jesus is mine
Jesus the way
He is the Truth
That sets free indeed
I am now delivered
Halleluyah
5. I declare firmly
No more poverty
My Dad in Heaven
Owns the earth
His treasures mine
I will live in wealth
I am heir of God
Halleluyah
6. I won't accept
Any barrenness
Any fruitlessness
I reject
My Dad the Vine
His blood is my veins
I am a branch of God
Halleluyah
7. I cannot faint
Jesus my Helper
My strength supplier
Deep within
I cannot fail
Jesus Never fails
Success mine forever
Halleluyah
8. I live to reign
Live in dominion
Above all powers
And my foes
I am above
Principalities
Victorious forever
Halleluyah
9. Halleluyah
Sing Halleluyah
Loud Halleluyah
Big and clear
Halleluyah
Shout Halleluyah
Halleluyah
Halleluyah
Congress Schedule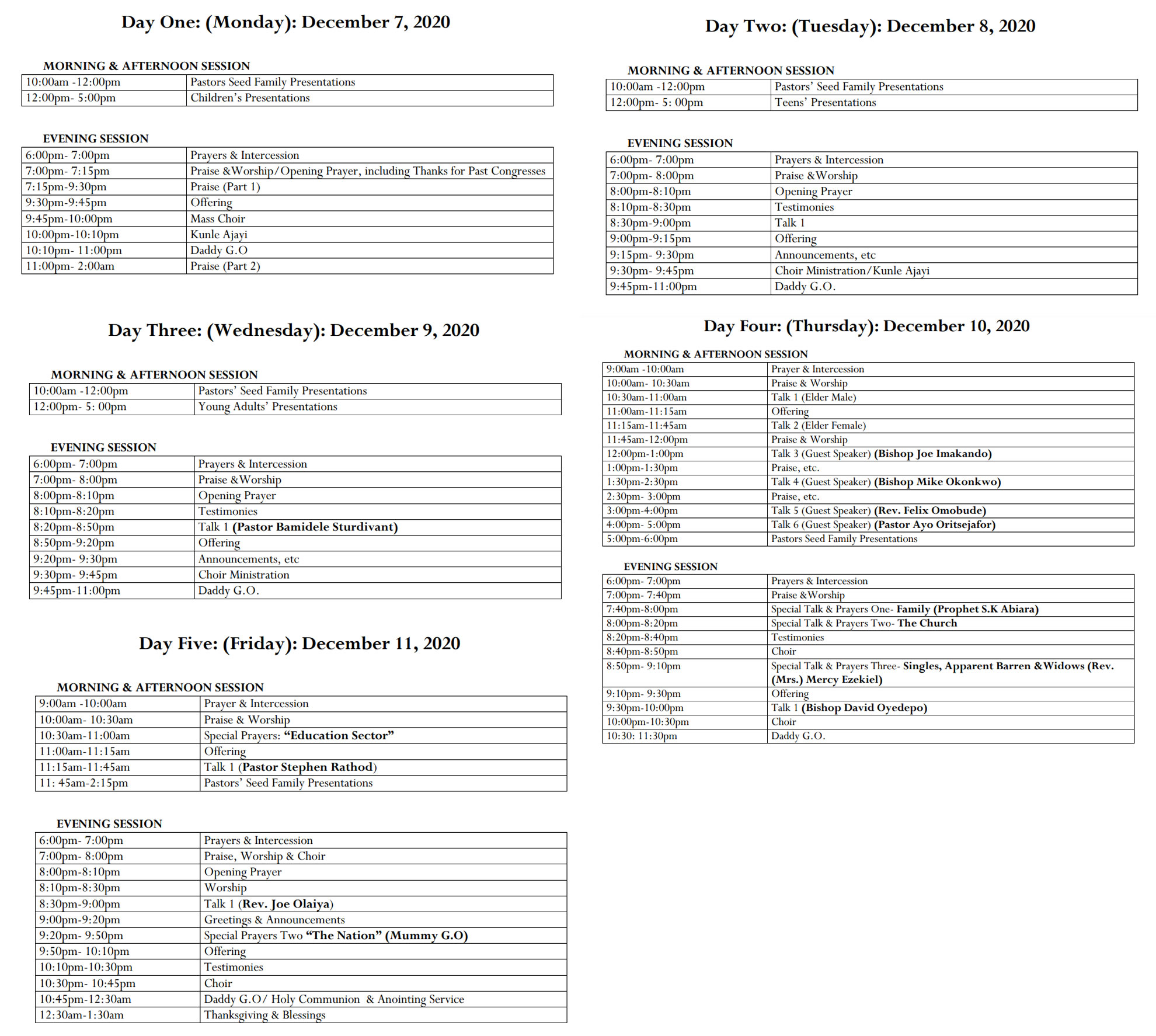 Display Picture Frame
Create your Congress Invite Display Picture and share on your social platforms.