WELCOME TO THE HOLYGHOST CONGRESS 2020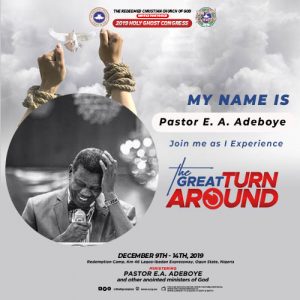 THE GREAT TURNAROUND
We thank the Almighty God, the controller of the universe, for the privilege of celebrating another Congress. He has preserved us all through the year since the last Congress for a special evening experience at this year's Congress. May His Name be glorified forever in Jesus' mighty name!
If you ever needed a turnaround, there is no better time than now to experience it. We are All witnesses to all that has been happening in Nigeria and the rest of the world. So when the Lord assures of the great turnaround, He must have us in mind. In situations like ours, His people had always experienced great turnarounds great turnarounds al through the generations. He has done it before and He will do it again because according to Hebrews 13:8, "Jesus Christ the same yesterday and today and forever." He is the unchangeable changer.
This year's Congress is very special in many ways. We shall spend quality time on the opening day to praise God for His wondrous works at the last Congress and ever since. Each day has been planned with you in mind – The Opening Day, The Daily Morning, Afternoon and Evening Sessions. If I were you, I would not miss any of them. You may wish to see he details of the programmes in the Dami activity section of this booklet.
The Lord is about to turn things around for you. Do my leg anyone distract you. It is a special encounter with the Lord Himself. Be prayerful, focused and expectant. I have no doubt that you would be the next person to testify.
Welcome to the Congress of the Great Turn Around.
God bless you!
Pastor E.A. Adeboye
General Overseer, RCCG Worldwide
Congress Hymns
1. My beloved, your time is come
You will soon rejoice
Your great turnaround bid welcome
Make a joyful noise
Chorus:
Let us sweet hallelujah sing
To the King of kings
To the one who lives power
Shout Hallelujah
2. Are you asking when to be healed
The answer is now
The Great Healer's hand to you stretched now not tomorrow
Chorus
3. Are you wondering when to be free
The answer is now
The Lord Of hosts are issued decree
Let my people go
4. Asking when you will fruitful be
End to all failures
Jesus says "Just abide in Me"
Much success is yours
Chorus
5. Are you burdened with cares, sorrows
No rest and no peace
Commander of storms and billows
Says "Now be at ease"
Chorus
6. Looks as if you have lost all hope
Your bones are now dry
The Wind Of The Spirit will blow
You will begin to fly
Chorus
7. Are you drifting far from Heaven
Jesus says "Return"
Come to Me and be forgiven
There is hell to shun
Chorus
8. Are you thirsty for God's power
Million souls to win
Holy Spirit, your Great Partner
Beckons you to drink
Chorus
9. Are you working for God's kingdom
No rewards till now
God is true and in His Kingdom
Your rewards starts now
Chorus
10. Looking for your Heaven's mansion
Your groom will soon come
As He promised He'll return soon
He'll take you home
Chorus
11. Join me sing sweet Hallelujah
That is my new song
Let us shout Great Hallelujah
For Great Turnaround
Chorus
Tune: Ho, my comrades, see the signal
Congress Schedule

Display Picture Frame
Create your Congress Invite Display Picture and share on your social platforms.